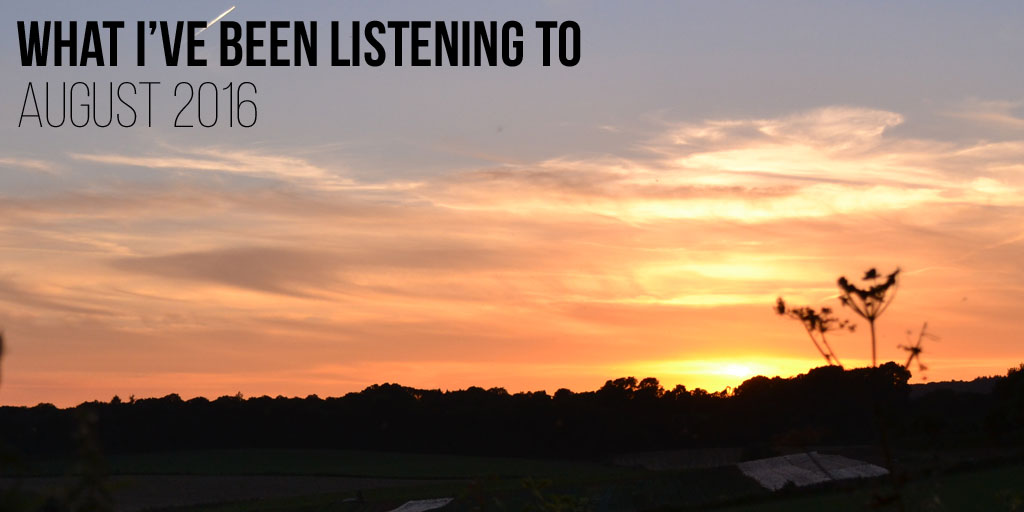 Phew! It's been a scorcher of a month. Along with that, it's been busy for me. Throughout August the astrophysics group at the University of Exeter have been preparing to host an international conference, and I've been doing little bits and pieces on the Local Organising Committee. Despite the this, I've still managed to get in plenty of music listening, and I've picked out some of my favourites to share with you once again. Let's get cracking.
Gypsy & The Cat – Odyssey of the Streets
I've been a fan of Gypsy & The Cat ever since their first album, Gilgamesh, hit iTunes in 2010. Sadly, I didn't pay much attention to their second album when it came out, and to this day I've not been as much of a fan of it as their earlier work. The work that came out this month was their last work, however it's a hell of a way to end. The track 'Odyssey of the Streets' is particularly good; the reason it's being featured here. Their trademark spacious, catchy solos show through in a big way. I highly recommend listening to the rest of the album, as it's very good.

Blossoms – Charlemagne
This is hardly a new song, as it's been popping up in various places for quite a while. But it does have an innate ability to put a smile on my face. It's pretty difficult, but I think I would summarise it as Tame Impala with a beat and one hell of a bass line. This song in particular is probably one of my favourite songs of last year. I've even seen it featured on Later with Jools Holland, so these folks must be doing something right. It's well put together and exceptionally groovy. Definitely worth a listen.
Chairlift – Get Real
Chairlift are back again with another tune, and once again we are graced with the dexterously sublime vocals of Caroline Polachek. This is not necessarily a song that really goes anywhere, but it doesn't need to as it's just an auditory frolic that I'm all to keen to let play out. Following on from their recent album, I wasn't expecting material out soon, but I'm glad to see they are active as this duo are exceptionally skilled at producing deep yet readily accessible pop.
Betty Who – I Love You Always Forever (Viceroy Remix)
This tune hit Spotify last month and I liked it then. As is the way with Betty Who, it's very well produced with 80s inspired synthwave roots, and it's just generally a great tune. I've included this remix this month as it's taken that really good song and made it really fun by adding in plenty more flourishes and a driving bass line. If you like this you'll almost certainly enjoy the original, so I highly suggest giving it a listen.
Passenger – Anywhere
Passenger's hit Let Her Go was as pervasive as an exceptionally pretty weed in 2014. You couldn't turn around without hearing some radio station or other playing it. I had no problem with this, because this tune was beautifully produced and expertly written breakup anthem. In addition the man himself, Mike Rosenberg, has a very distinctive, almost ethereal vocal tone that just completes the package. When I saw this song at the top of Spotify's recommendations for me this week I was equal parts excited and apprehensive. Could he produce another cracker of a tune after his success in 2014? Although the song is by no means as complex, he's done it again with this feel good tune. There's very little to dislike with Anywhere. I've enjoyed it so much that it's well and truly been on repeat throughout the end of this month. It's deceptively intricate production acts as a steadfast foundation for some simple, yet heartfelt lyrics. With this song, Passenger renews his status as an expert folk-pop artist, but covering both ends of the emotional spectrum with ease and style.
Thanks for popping in to read this post, and apologies for being a few days late to posting it. Only a few days into September, I can already see that the weather is taking a bit of a down hill spiral and we're rapidly descending into an autumnal feel. That must mean it's nearly time for the new academic year. Join me next month for another assortment of my most listened to music from this month. Until then, thanks for reading and listening along.
Tags:
always
anywhere
betty
blossoms
cat
chairlift
charlemagne
forever
get
gypsy
love
odyssey
passenger
real
streets
viceroy
who
you